Kemp & Kemp The Quantum of Damages 2nd ed: Volume 2 Fatal Injury Claims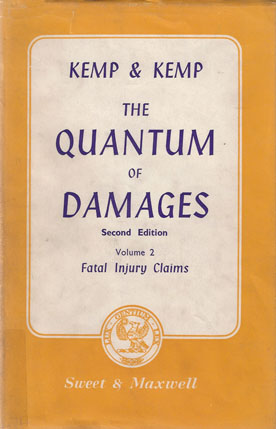 ISBN13: 004582
ISBN: 004582
Published: September 1962
Publisher: Sweet & Maxwell Ltd
Country of Publication: UK
Format: Hardback
Price: Out of print

Out of Print
Every award of damages must, of course, depend upon the facts of the case in question. It cannot be denied however that a comparison with the general run of previous awards will assist practitioners, insurers and others when they try to assess the sum likely to be awarded in a particular case, or want to fix what sum to pay into court or to accept if paid in by the other side.
This book collects together a great number of decisions on the quantum of damages in fatal accident cases. Many of them are unreported judgments of the Court of Appeal filed away in the Bar Library, and it is one of the merits of this book that they have been made generally available in this way. Being extracts from or summaries of the official transcripts of the Court's judgments, they have been initialled by the authors and may, therefore, be cited in court as authenticated awards.
This also applies to a number of cases at first instance. In addition a large number of unauthenticated awards have been briefly noted. Where there have been cases in the Commonwealth on points not yet expressly decided by the English Court, these have been included.
In this second edition the new material includes more than twenty full reports of Court of Appeal judgments, most of them otherwise unreported, as well as many summaries of reported first instance awards. A new chapter has been written on Apportionment and Control of dependents' damages.
Includes a Foreword (To the First Edition) By The Late LORD BIRKETT