The Role and Responsibility of the Advocate: A Public Lecture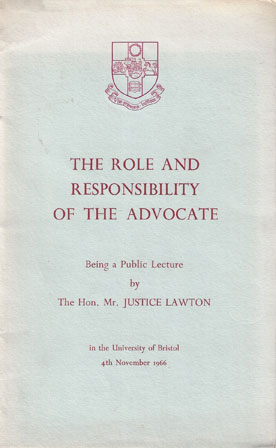 ISBN13: 004676
ISBN: 004676
Published: November 1966
Publisher: Bristol University Press
Country of Publication: UK
Format: Pamphlet (11 Pages)
Price: Out of print

Out of Print
The first thing to do, let's kill all the lawyers said Dick the butcher to Jack Cade on Blackheath. Nay said Jack, that I mean to do. (Henry VI, Part II, Act 4 scene ii).
The same feelings of hatred and distrust of lawyers, emasculated perhaps by the enervating influences of modern civilization, are common today. The profession of advocacy, particularly that part of it which is the Bar of England, is under constant attack.
To the ignorant it appears to be parasitical; to the social reformer, hide bound by tradition; to the politician, devoted to 18th century concepts of liberty and the freedom of contract which are out of place in the world today; and to the Press, arrogant, stuffy, over-privileged and stand-offish. All these views of the profession of advocacy are misconceptions.
The ill-luck of the Bar is that it has never had the benefit of a novel which presented an image of it which was attractive to the public. Novels, plays and films have tended to present the barrister as a member of the monied classes, a product of the leading public schools and of Oxford and Cambridge.
This view of the Bar never has been accurate. The reason for these misconceptions is, I think, the fact that few outside the Bar understand what the profession of advocacy entails, namely acting as a helper in the administration of justice......