The Innocence of Edith Thompson: A Study in Old Bailey Justice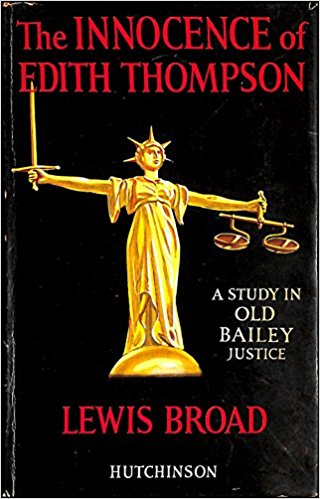 ISBN13: 005031
ISBN: 005031
Published: January 1952
Publisher: Hutchinson
Country of Publication: UK
Format: Hardback
Price: £30.00
(Second Hand)

Out of Print
Frederick Bywaters and Edith Thompson were jointly charged at the Old Bailey with the murder of Percy Thompson, the woman's husband. Mrs. Thompson had written a long series of letters to Bywaters, who was at sea. In these letters were direct references to alleged attempts which she represented herself as making on the life of her husband.
When read in Court, these letters produced a great effect upon the jury. Nevertheless, the case for the prosecution was a weak one, inasmuch as there was no witness of the murder, except possibly Mrs. Thompson. But Mrs. Thompson insisted on going into the witness-box, and, under a searching cross-examination, she made some damaging admissions.
Both were found guilty. If Mrs. Thompson had not gone into the box it is unlikely that the jury could have convicted Bywaters of anything more than manslaughter, or that they could have convicted her at all.
By Way of Introduction The purpose of this book is to prove what has frequently been asserted, that Edith Thompson was not guily of complicity in the murder of which she was convicted and for which she was hanged. Her innocence has been proclaimed by half a dozen authors, notably Miss Tennyson Jesse.
Marshall Hall believed her guiltless. Lord Birkenhead was confident he could have secured her acquittal. But, despite all the protestations, many grounded on sentiment rather than on logic, no one ahs ever proved her innocent by process of reasoned argument. That is my purpose here.
Lewis Broad Podkin Farm Biddenden June 1952