Fleet Street Reports: Issues Only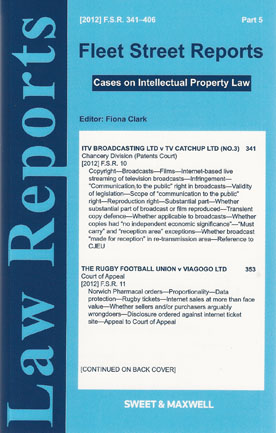 ISSN: 0141-9455
Latest Release: February 21, 2020
Publisher: Sweet & Maxwell Ltd Subscriptions
Country of Publication: UK
Format: Law Reports
Price: £2152.00

Subscription Type: Annual Subscription
Domestic Renewal Price: £2152.00
Overseas Renewal Price: £2260.00
Usually despatched in 1 to 3 weeks.
First published in 1963, the Fleet Street Reports has been the ultimate choice for intellectual property practitioners. With cases hand picked by Mary Vitoria QC, a leading intellectual property specialist, it ensures you are on top of the significant case developments and landmark decisions within intellectual property.
Keeping you up to date, it:
Reports and analyses the key cases in IP law
Offers analytical headnotes discussing the decisions
Includes the ongoing debates within major UK case law
Provides information on landmark decisions in the UK and Commonwealth courts and the ECJ
Ensures you stay informed of the all the key cases and developments internationally
Includes a cumulative index in each issue for ease of use
Reports the questions raised surrounding procedural and substantive issues and how they are dealt with
Updates you on the latest cases each and every month
Subscriptions for this title run from January to December. There are 12 issues per annum.