The Company Lawyer: Issues Only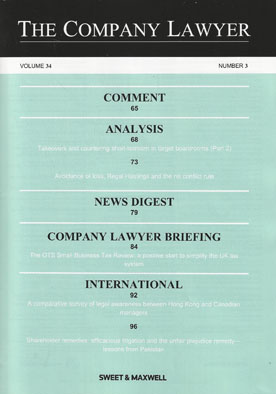 ISSN: 0144-1027
Latest Release: January 28, 2019
Publisher: Sweet & Maxwell Ltd Subscriptions
Country of Publication: UK
Format: Journal
Price: £2079.72

Subscription Type: Annual Subscription
Domestic Renewal Price: £2079.72
Overseas Renewal Price: £2223.72
Usually despatched in 1 to 3 weeks.
The Company Lawyer has been designed to keep readers up to date and fully aware of the implications of the constant changes and reforms in company law. The journal can be relied upon for critical discussion and analysis of key issues in company law.
New opinion section written by a leading figure
The editorial column is an independent voice on major issues facing companies, their in-house legal advisers and lawyers in private practice
Penetrating articles examine in detail areas of company law and securities regulation
All the essential items of news from, for example, the Treasury, the SIB, the Takeover Panel, the Stock Exchange, DTI, the accountancy bodies, The Law Society and the EU are reported in the News Digest pages
Company Lawyer Briefing provides the most convenient way of finding out what changes have been introduced in company law and securities regulation, and what effect they will have
Contributors located in over 30 world business and investment centres report on significant developments in international company law
Subscription Information
: 12 issues and 1 Index within Issue 12 per annum. Any time start annual subscription for this title. We will contact you before renewal each year to ascertain whether you wish to renew your subscription.