The Litigation Letter: Print + Online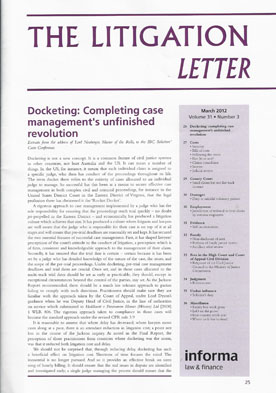 ISSN: 0268-0653
Latest Release: January 03, 2017
Publisher: Informa Subscriptions
Country of Publication: UK
Format: Newsletter + Online
Price: Out of print

Subscription Type: Annual Subscription
Domestic Renewal Price: £1140.00 including VAT of £190.00
Overseas Renewal Price: £1250.00
The Litigation Letter is the most comprehensive way to stay up to date with live issues affecting litigation costs, practice and procedure. It covers a wide range of topics including appeals, family law, arbitration, employment law, human rights, insolvency law, professional negligence, litigation costs, defamation, fees, funding, tort, the CPR, injunctions, evidence, judgments and contracts.
The Litigation Letter contains:
Expert summaries of the month's developments in civil litigation
Reports and extracts from judgments of every decision affecting litigation practice and procedure, including decisions not reported elsewhere
All Practice Directions and Notes in full, with Acts and Statutory Instruments summarised
Authoritative reports and advice on all aspects of costs and fees
How
The Litigation Letter
benefits you:
Keeps you up-to-date quickly and concisely
Does the research for you, with all the latest developments in litigation practice
Contains both reported and unreported cases with cross references to other legal journals and the media
Alerts you to forthcoming changes, reforms and consultation
About the Editor
His Honour Michael Cook retired as a full-time circuit judge in May 2003, but he still sits regularly as a judge in the Royal Courts of Justice and the county court in civil litigation and family cases. He is a former Secretary and President of the London Solicitors Litigation Association, of which he is proud to be an honorary member, and was a founder member of both Holborn and Westminster Law Societies. He has been the editor of The Litigation Letter since it was first published in 1981 and also writes articles for The Times, The Civil Justice Quarterly and the Law Society.