Law and Justice: The Christian Law Review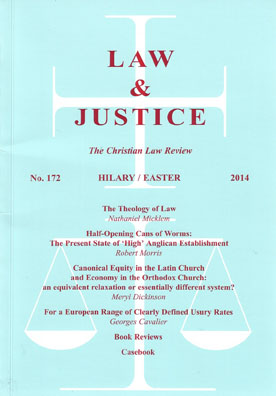 ISSN: 0269-817X
Latest Release: September 10, 2019
Publisher: Edmund Plowden Trust
Country of Publication: UK
Format: Journal
Price: £45.00

Subscription Type: Annual Subscription
Domestic Renewal Price: £45.00
Overseas Renewal Price: £47.50
Usually despatched in 1 to 3 weeks.
Law & Justice is a peer reviewed journal published by the Edmund Plowden Trust for the purpose of assisting and promoting the study and understanding of the law of this country (UK) and its legal systems in themselves and by comparing them with the laws and systems of other countries and by considering them in the light of Christian sources such as The Declaration of Religious Freedom (of the Second Vatican Council), International Law, Canon Law and the Law of Nature.
Two issues published per annum in summer and winter.