Family Court Reports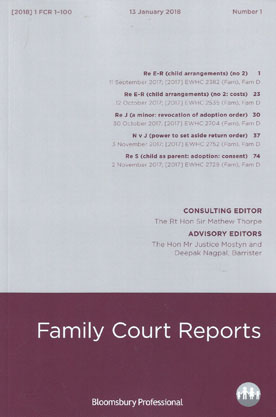 ISSN: 1472-6459
Latest Release: March 12, 2020
Publisher: Bloomsbury Professional Subscriptions
Country of Publication: UK
Format: Law Reports
Price: £420.00

Subscription Type: Annual Subscription
Domestic Renewal Price: £420.00
Overseas Renewal Price: £445.00
Usually despatched in 1 to 3 weeks.
If it matters to you, it matters to us. Bloomsbury's Family Court Reports give you unparaUeted currency in the family cases that matter.
Established in 1987, the Family Court Reports have long been one of the most well-regarded set of family law case reports. In relaunching this esteemed series, we have redefined the reporting criteria to ensure careful case selection that provldes cov.erage of the most significant cases for family law professionals.
Published twice-monthly, with quality headnotes, they cover precedent setting rule of law, cases from the higher courts and cases deciding essential practice points from all levels of court.
The Family Court Reports are currently first to the market and provide you with a focused selection of the core family case reports quickly and accurately, bringing you optimum case currency and a consistent darity of detail.
Family Court Reports are at the heart of trie new and expanding Bloomsbury Family Law division.