The Journal of Comparative Law: Subscription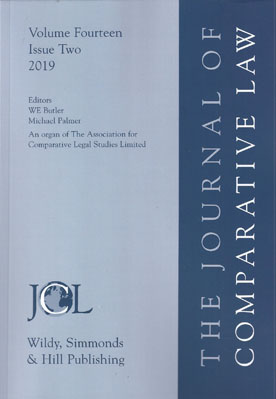 ISSN: 1477-0814
Latest Release: August 25, 2020
Publisher: Wildy, Simmonds and Hill Publishing
Country of Publication: UK
Format: Paperback
Price: £95.00

Subscription Type: Annual Subscription
Domestic Renewal Price: £95.00
Overseas Renewal Price: £120.00
The Journal of Comparative Law: An Organ of The Association for Comparative Legal Studies Limited has strong input from numerous colleagues and institutions with expertise in the comparative analysis of law and legal change across a very wide range of jurisdictions and legal cultures and is refereed and published twice a year.
The Journal provides a scholarly resource for the field of comparative legal studies in a broad sense. In order to achieve this aim, it publishes articles on all aspects of comparative law, in all geographical areas of the world, and encourages analytical (rather than purely descriptive) work with a contextual, theoretical and interdisciplinary approach. Due weight is given to the practical aspects of comparative legal studies in a globalised world.
Publication Ethics
We adhere to the practices and principles of followed by Oxford Journals which may be found at https://academic.oup.com/journals/pages/authors/ethics
Submissions
Simultaneous submissions are not accepted. Articles should normally be between 7,000 and 14,000 words. However, substantially shorter and substantially longer articles are also very welcome. Colleagues wishing to submit such articles should consult the Editors in advance. Pieces for the Research Commentaries section (pieces which deal with short, but relevant, points) should normally be between 1,000 and 2,000 words. Book reviews should be between 600-1,500 words.
The editors of the JCL reserve the right to reject any submission which appears to them to contain a substantial replication, without appropriate attribution, of significant elements found in previously published material.
Prospective Authors
Reports of cases, casenotes, assessments and translations of important documents (particularly in non-Western languages), and annotated bibliographies are all very welcome.
Colleagues are also invited to bring to the Journal's attention recent items of interest in their field, whether books, articles or any other type of work for inclusion in the Noted Publications' section. This section introduces publications deemed important by comparatists-at-law, and provides a short commentary on their content and significance. Please contact Professor Pierre Legrand.
Editors:
William Butler, Dickinson School of Law, Pennsylvania State University; University College, University of London (Emeritus)

Michael Palmer, School of Oriental and African Studies, University of London
Correspondence and Submissions
For further information please contact William Butler or Michael Palmer, Editors; Journal of Comparative Law c/o Wildy, Simmonds & Hill Publishing, Lincoln's Inn Archway, Carey Street, London WC2A 2JD, UK
Tel: +44(0)20 7492 0380
Fax: +44(0)20 7492 0381
Book review correspondence and submissions should be sent to Professor WE Butler, the Review Editor.
The Journal of Comparative Law is an organ of The Association for Comparative Legal Studies Limited (the ACLS). The ACLS is established to promote comparative and international legal studies. It is a strictly non-profit corporation; accordingly, neither its owners nor its management may profit personally in any way from its activities.
The ACLS publishes material which it considers to be relevant to the aims of the ACLS and of sufficient intellectual merit. Views expressed in that material are the authors', and do not necessarily reflect the opinions of the owners or management of the ACLS or the opinions of any member of the Editorial Board.
Annual Subscription Costs for 2 issues per annum (including postage where applicable)
UK Institutions - £95.00 per year
Europe - £115.00 per year
Rest of the World - £120.00 per year