Journal of International Banking Law and Regulation: Issues Only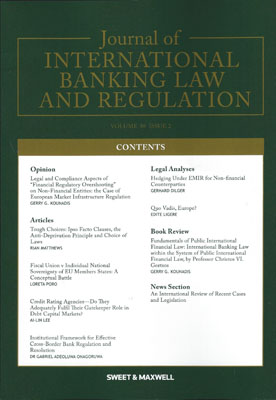 ISSN: 1742-6812
Latest Release: October 26, 2023
Publisher: Sweet & Maxwell Ltd Subscriptions
Country of Publication: UK
Format: Journal
Price: £3557.76

Subscription Type: Annual Subscription
Domestic Renewal Price: £3557.76
Overseas Renewal Price: £3701.76
Usually despatched in 1 to 3 weeks.
Launched in 1986 and established as the leading specialist international banking law journal, the Journal of International Banking Law has been expanded to include coverage of regulatory issues - and has been relaunched as the Journal of International Banking Law and Regulation.
The increased scope of the Journal reflects the ongoing changes in the international banking, securities and regulatory arena. It provides detailed, practical analysis of international legal and regulatory issues from around the world.
Each month our international correspondents give their views on topical issues and future trends in a comprehensive news section. Articles and analytical pieces combine practical information with academic opinion, identifying current issues and offering guidance and advice; expert reviews of the latest publications ensure that you stay ahead of the competition.