Global Transport Finance (GTF): Print + Online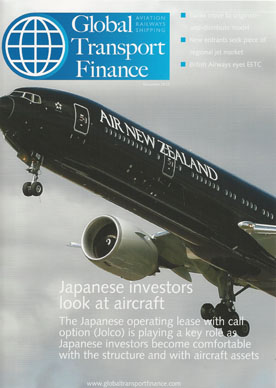 ISSN: 2051-3259
Latest Release: June 10, 2019
Publisher: Global Transport Finance (GTF)
Country of Publication: UK
Format: Journal + Online
Price: Out of print

Subscription Type: Annual Subscription
Domestic Renewal Price: £950.00
Ceased publishing in October 2019
Global Transport Finance (GTF) is the only business magazine that reports on the international aviation, shipping and rail transport industries all in one format.
GTF's aviation transaction coverage allows airlines and aviation borrowers to find out what sources of finance are available and at what price. Each month, GTF includes breaking news stories and in-depth reports to help aircraft owners, shipping and rail companies, investors (including hedge funds and private equity firms) make successful investments and keep up-to-date with the financials within these dynamic industries.
Global Transport Finance contains must-have financial intelligence, on:
Debt pricing
Structures
Arrangers and lenders for debt deals
Sales and leasebacks
Mergers and acquisitions
Pricing trends
Research
Significant equity transactions
Recent orders and deliveries
Privatisation information and legislative activity
The transport sectors covered include:
Aviation (Airlines)
Airports
Shipping
Rail
Roads
People
The website www.globaltransportfinance.net provides paid subscribers with access to a fully searchable database of aircraft, shipping and rail deals spanning the past decade with new deals added – as and when they happen. Deals include details such as financial structures, amount borrowed, arrangers and law firms working on a single transaction.