Digital Health Legal: Print + Single-User Online Access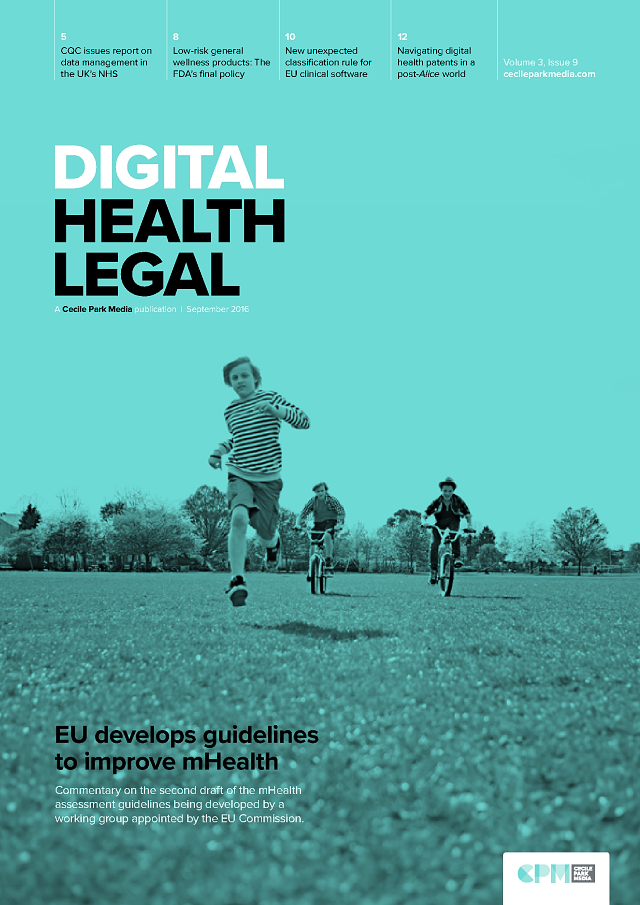 ISSN: 2399-1100
Latest Release: November 05, 2018
Publisher: Cecile Park Publishing
Country of Publication: UK
Format: Journal + Single-User Online Access
Price: Out of print

Subscription Type: Annual Subscription
Domestic Renewal Price: £649.00
Digital Health Legal, formerly eHealth Law & Policy, is essential reading for professionals in the digital health sector.
Of utmost importance for both the developed and developing world, eHealth and the laws and regulations surrounding the convergence of healthcare and technology are crucial to the progress of innovation, investment, and growth in this space.
Written by experts, for experts, Digital Health Legal delivers razor-sharp analysis of the global regulatory developments and industry initiatives surrounding the transformation of the healthcare industry into the online and mobile world, and the issues and challenges this seismic shift brings.
Subscribers to the publication receive print copies each month as well as online access to the fully searchable archives, which feature every article ever published.
Please contact Subscriptions for University and Corporate options, multi-journal quotes or a complimentary journal issue.