Hallett's Conveyancing Precedents: With Practical Notes Including Tax and Estate Duty Saving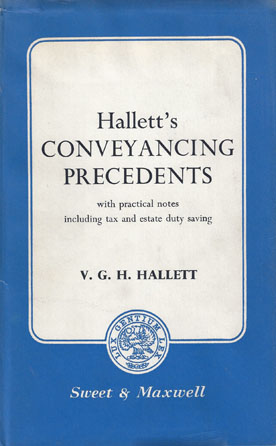 ISSN: 3064-3064
Published: June 1965
Publisher: Sweet & Maxwell Ltd
Country of Publication: UK
Format: Hardback
Price: £125.00
(Second Hand)

Out of Print
This work is wholly New - the first new major work of general conveyancing precedents to be published in England for over half a century. Its contents are different from the older works because modern requirements are different. Tax (income tax, surtax, estate duty, stamp duty) is a major, in some cases the overriding, factor in present-day conveyancing.
In essence, the purpose of this work is to provide two things: reliable drafts for every day transactions; an explanation of the considerations which must be borne in mind when framing drafts and advising clients. The follow¬ing are some particular features:-
There are more discretionary, tax and estate duty Settlements than in any comparable work: all these have been used in practice. The Leases section is soundly based on modern requirements; there is no dead wood. The section on Wills pays particular attention to their tax and estate duty effect, both in the notes and in the forms.
The section on Conveyances is based firmly on the 1925 legislation, as experience of its working has shown is necessary. The section on Registered Land is a major feature of this work. It is entirely new and is based on practical experience of the working of the system.
The Preliminary Notes are not legal essays. They contain the essential information required by the draftsman in framing his draft. The statutory provisions which must be taken into account are printed, with notes if necessary. The Textual Notes allow the draftsman to make adaptations to the precedents with full understanding and without risk of mistake.