Marshall Hall: A Biography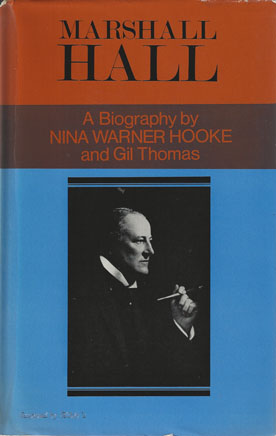 ISSN: 4028-4028
Published: June 1966
Publisher: Arthur Barker Limited
Country of Publication: UK
Format: Hardback
Price: £40.00
(Second Hand)

Out of Print
When Sir Edward Marshall Hall, K.C., died in 1927 his passing marked the end of an era. He was almost the last of the great advocates who dominated the British Law Courts for nearly eighty years. The tradition of vigorous court oratory began with Lord Erskine and ended with Lord Birkett.
Among great men who were contemporaries of Marshall Hall were Sir Edward Clarke, Edward Carson (Lord Carson), Rufus Isaacs­ (Marquess of Reading), F. E. Smith (Lord Birkenhead), Douglas Hogg (Lord Hailsham) and Sir Patrick Hastings.
There were many other fine lawyers but none who captured the affection and admiration of the public as these did, and their names and faces were as familiar to the ordinary public as the film stars of the thirties and the pop stars of today.
Marshall Hall was born in the middle of the nineteenth century and lived on into the twentieth. He took part in many classic criminal trials and it is mostly by these that he is remembered. But they formed but a small part of his practice. He had many triumphs in the civil courts and developed his artistry as a cross-examiner in the rough and tumble of the police courts.
The authors, with the help of Elna Marshall Hall, Sir Edward's daughter, his chief clerk R. E. Bowker and others who knew him have reconstructed jhe life of a man whose early years were marred by tragedy and out of whose sufferings grew his compassion for the miserable and oppressed. Not for nothing was he known and loved as The Great Defender.
In this book fresh light is thrown not only on his private life and his working methods but also on many of his best cases - some famous, some obscure. Students of crimi­ nology will recall the defence of Robert Wood, and of Frederick Henry Seddon, Harold Greenwood, Ronald Light and Lock Ah Tam.
This biography is a new departure for novelist and playwright Nina Warner Hooke, author of THE SEAL SUMMER, which has sold widely and been acclaimed all over the world. She is collaborating for the first time with her husband, Gil Thomas, author and former newspaperman who spent his early working life in the Temple and, as a crime reporter, covered many famous cases and met most of the great legal figures of the time.
Copies for sale may have no dustjacket.