Famous Trials of Marshall Hall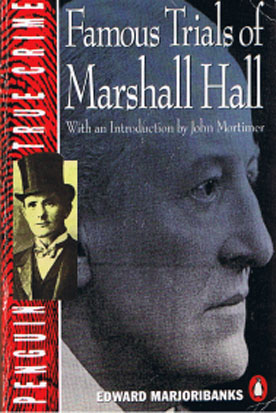 ISBN13: 9780140115567
ISBN: 0140115560
Published: February 1989
Publisher: Penguin Books
Country of Publication: UK
Format: Paperback
Price: Out of print

Out Of Print
Marshall Hall was a spectular figure in many of the most famous murder trials staged at the Old Bailey. His powers of oratory and cross-examination made him a widely-sought advocate, and he played a leading role in such celebrated cases as those of Seddon the prisoner, George Joseph Smith (who drowned his brides in a bath), the "Green Bicycle" mystery and the Field and Gray murder on Eastbourne beach.
His dynamic style of defence secured several prisoners the benefit of the doubt in a jury's mind, but is also involved him in many clashes with judges who did not care for Marshall Hall's cut-and-thrust manner in court.
This book is written by a friend and colleague who had access to Sir Edward Marshall Hall's private papers. Part biography, it reveals the barrister's tragic personal life and the contradictions in his personality. Part case history, it gives plenty of details about the murder cases.
Edward Marjoribanks was born in 1900 and educated at Eton and Christ Church, Oxford. He left Oxford, where he was President of the Union, in 1922 with first class honours in Literae Humaniores, and was called to the Bar in 1924.
From 1929 until his early death, by suicide, in 1932 he was 'a Member of Parliament for the Eastbourne Division of East Sussex. A friend and colleague of the great advocate, he had access to a great deal of unpublished material tor his Life of Sir Edward Marshall Hall which was first published in 1929, and from which this Penguin volume has been taken. His Poems were published in 1931 and his Life of Lord Carson, Volume I in 1932.
This is a condensed version of The Life of Sir Edward Marshall Hall
First Published by Victor Gollancz, 1929
First Penguin publication 1950
Reprinted with an Introduction by John Mortimer, 1989