Ethics and Legal Professionalism in Australia 2nd ed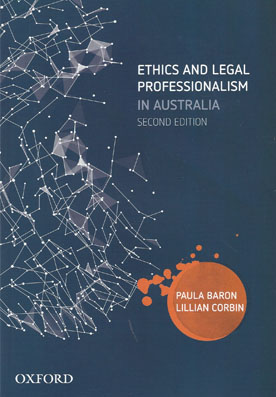 ISBN13: 9780190309800
Published: December 2017
Publisher: Oxford University Press Australia & New Zealand
Country of Publication: Australia
Format: Paperback
Price: £70.00

Ethics and Legal Professionalism in Australia introduces students to the ethics and professional responsibilities that they will encounter in practice. It outlines the concepts, rules and conflicts relating to legal ethics in addition to exploring the ambiguous ethical aspects associated with being a lawyer.
This text takes a thematic approach, with each chapter focusing on one theme and how it relates to lawyers' professional obligations, rather than simply focusing on the rules of professional conduct. Lawyers do not work in a vacuum, but within a framework of legal and professional regulation, and having the ability to make sound professional decisions is at the heart of good professional conduct.
This edition has been updated to include the Uniform Law framework which has been implemented in NSW & VIC, and includes tables that outline the comparative sections and rules for each Australian jurisdiction.
New to this edition:-
Additional cases added throughout the text to support the content
Updated to include information about technological advances and how these affect the legal profession in terms of the conduct required of lawyers when operating in the digital environment (ie what some term `e-professionalism')
Includes additional information about mental health issues amongst lawyers and how this affects professional practice
Comparative tables updated to reflect changes following the abandonment of the proposed national law