The Human Rights-Based Approach to Higher Education: Why Human Rights Norms Should Guide Higher Education Law and Policy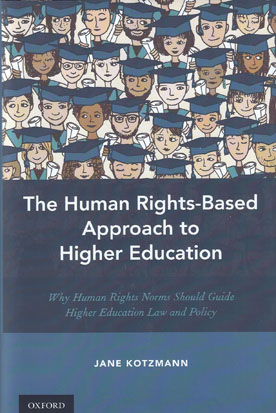 ISBN13: 9780190863494
Published: June 2018
Publisher: Oxford University Press
Country of Publication: USA
Format: Hardback
Price: £68.00

A human right to higher education was included in the International Covenant on Economic Social and Cultural Rights (ICESCR), which came into force in 1976.
Yet the world has changed significantly since the ICESCR was drafted. State legislation and policies have generally followed a neoliberal trajectory, shifting the perception of higher education from being a public good to being a commodity able to be bought and sold. This model has been criticized, particularly because it generally reinforces social inequality.
At the same time, attaining higher education has become more important than ever before. Higher education is a prerequisite for many jobs and those who have attained higher education enjoy improved life circumstances.
This book seeks to determine: Is there still a place for the human right to higher education in the current international context? In seeking to answer this question, this book compares and contrasts two general theoretical models that are used to frame higher education policy: the market-based approach and the human rights-based approach. In the process, it contributes to an understanding of the likely effectiveness of market-based versus human rights-based approaches to higher education provision in terms of teaching and learning. This understanding should enable the development of more improved, sophisticated, and ultimately successful higher education policies.
This book contends that a human rights-based approach to higher education policy is more likely to enable the achievement of higher education purposes than a market-based approach. In reaching this conclusion, the book identifies and addresses some strategic considerations of relevance for advocates of a human rights-based approach in this context.