The Judge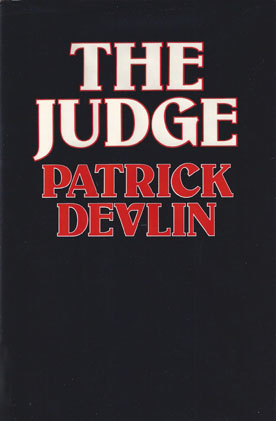 ISBN13: 9780192159496
ISBN: 0192159496
Published: June 1979
Publisher: Oxford University Press
Country of Publication: UK
Format: Hardback
Price: Out of print

Out Of Print
Lord Devlin, a Lord of Appeal though no longer in Ordinary, has continued to keep an eye on the law and the administration of justice in England, and himself in the public eye.
Indeed his detachment has enabled him to survey critically, while still at the height of his judicious powers, the whole operation of the legal system in which the English judges are continually conspicuous, and his observations on certain changes and movements in the law have occasioned public report and discussion; notably his Chorley Lecture at L. S. E. in 1975, the lecture he gave at All Souls College, Oxford, in May 1978, in which he criticized the Appeal Court's handling of the Cooper and McMahon case, and his Blackstone Lecture at Pembroke College, Oxford, of November 1978.
The thoughts that stimulated such lectures have been developed by the author to form this book on the place of the judge in the government (in the broadest sense) of the country and the service he gives to the community. Distilling nearly fifty years' legal experience, but here eschewing legal technicalities, Lord Devlin discusses many questions of interest to all citizens:-
Should judges refashion the law to suit changed social conditions, or should that be left to political legislators?
Should judges, who pass sentences on criminals of very various character, be trained in psychology, crimino-logy, or penology?
Are there advantages in the inquisitorial system usual on the Continent, of an examining magistrate seeking for the facts, over the adversary system traditional in the English Bar, wherein the Judge is umpire between two sides each trying to get their story ( not necessarily the truth in either case) believed?
Since the law seems sometimes to require manifest injustice, what ways are there by which in an individual case a just result (the aequum et bonum) can be obtained, despite the law?
Should the jury retain its power, however 'perverse' its verdicts may sometimes seem to lawyers, and has it the right even to override the law?
Should the Court of Appeal hear evidence that has not been heard by a jury, and still keep men in prison as a result? Should appeal court judges be less hampered by case law and prefer to do justice according to the 'general feel' of the case rather than the evidence?
To some of these questions Lord Devlin firmly answers No, but on all of them and many others he deploys his constructive imagination, intelligence, and knowledge, with many historical illustrations and always in luminous and pungent prose.