Taylor on Criminal Appeals 3ed (Book & eBook Pack)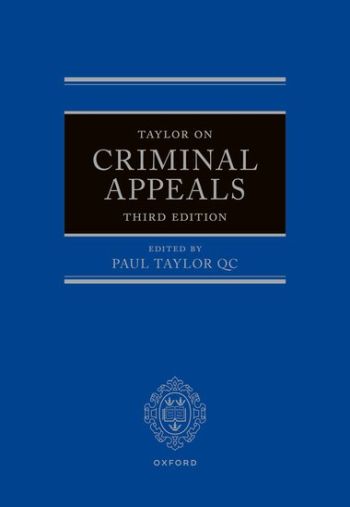 ISBN13: 9780192846600
Published: July 2022
Publisher: Oxford University Press
Country of Publication: UK
Format: Hardback + eBook
Price: £265.00

The newest edition of Taylor on Criminal Appeals provides a detailed guide to the practice and procedure with in depth analysis of the various procedural aspects and substantive grounds to challenges the decisions of the criminal courts, both in England and Wales as well as the Privy Council and European Court of Human Rights.
The book addresses the various stages in a potential appeal from identifying grounds and forum for challenge, to setting out the procedure for launching, preparing for, and presenting the appeal. Each chapter contains a detailed analysis of the approach of the appellate courts in specific areas, and flow charts and references to online resources (such as the procedural rules and forms) aimed at assisting the practitioner involved in a criminal appeal, judicial review or case stated at each stage of the proceedings.
Written by specialist practitioners, led by Paul Taylor QC, this book provides invaluable practical guidance for use in preparation and in court.
This Pack edition includes a copy of the hardcopy book plus an access code for the digital edition, which can be accessed via the LawReader app. The access code and instructions on how to download the digital version will be included on a card enclosed with the hardcopy book