Judicial College Guidelines for the Assessment of General Damages in Personal Injury Cases 16th ed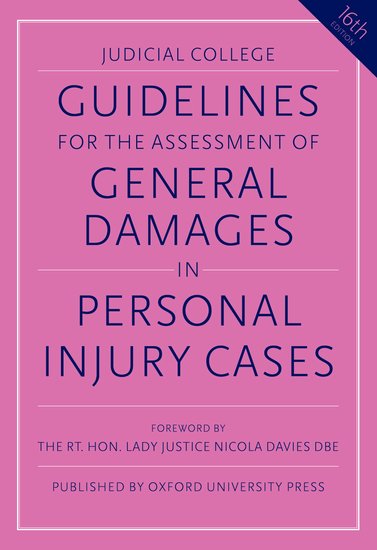 ISBN13: 9780192867629
Published: March 2022
Publisher: Oxford University Press
Country of Publication: UK
Format: Paperback
Price: £21.49

The Guidelines for the Assessment of General Damages are designed to provide a clear and logical framework for the assessment of damages in personal injury cases. The first edition of this title was regarded as a landmark in personal injury practice. Each succeeding issue has built on this reputation and the book has now firmly established itself as essential reading for all those involved in the area of personal injury litigation.
This new edition has been updated to take into account inflation since the last edition and to reflect decisions of the higher courts on quantum. New guidance is provided in relation to the application of the tariff-based awards for general damages under the Civil Liability Act 2018. A new section is included dealing with sexual abuse as well as a new chapter dealing with work-related limb disorders. Efforts have also been made to identify those cases likely to fall within the new £5,000 small claims limit in certain RTA cases.
This book is edited by a working party of the Judicial College, under the chairmanship of The Hon. Mrs Justice Lambert DBE. The members of the working party are all lawyers and personal injury specialists: Stuart McKechnie QC, barrister; Steven Snowden QC, barrister; Lisa Sullivan, Master of the Queen's Bench Division; and Richard Wilkinson, barrister.