Theories and Themes: Selected Essays, Speeches and Writings in International Law: Set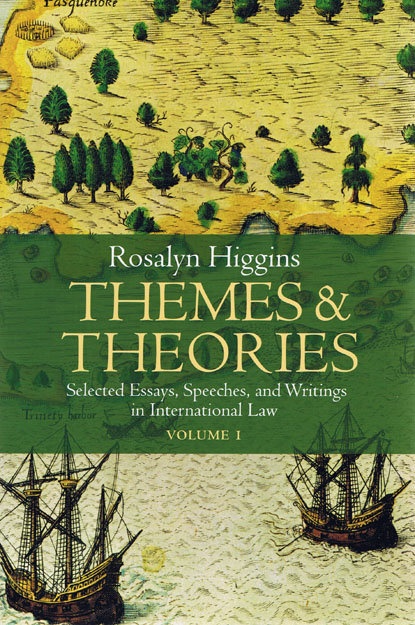 ISBN13: 9780198262350
Published: February 2009
Publisher: Oxford University Press
Country of Publication: UK
Format: Hardback, 2 Volumes
Price: £265.00

Despatched in 3 to 5 days.
As President of the International Court of Justice, Dame Rosalyn Higgins is the world's most senior judge. This two volume set collects together all of her most important writings as a scholar, a member of the UN Human Rights Committee, and as judge and President of the International Court of Justice. During these years Rosalyn Higgins has written on a wide range of topics within the international legal umbrella, including legal theory, United Nations Law, humanitarian law, the use of force, state and diplomatic immunities, human rights, and natural resources law.
Dame Higgins has played her part in the formulation of the Judgments and Opinions of the principal judicial organ of the UN. She has sought to ensure the ICJ - the senior international court - operates in a modern and efficient manner, and in cordial relationship with the many new courts and tribunals now existing. These aspirations are reflected in her speeches during the years 2006 to 2009, most of which have not hitherto been published. This volume boasts a comprehensive collection of all her Separate Opinions, amongst other writings, divided into ten Parts by subject matter. This includes specially written introductory passages by Dame Higgins to present the catalogue of her writings and the correlative developments in international law by theme.
A comprehensive collection of Dame Rosalyn's writings on international law throughout her career as an international lawyer and judge, and speeches that reveal her objectives as President of the International Court of Justice
Covering a wide range of subjects, including legal theory, United Nations Law, humanitarian law, the use of force, state and diplomatic immunities, human rights, and natural resources law
Follows on from Dame Rosalyn's 1995 book Problems and Process: International Law and How We Use It giving an unparalleled insight into one of the most important and powerful figures in the development of the practice of international law over the last 40 years
The two volumes are not sold separately