The Law of Professional-Client Confidentiality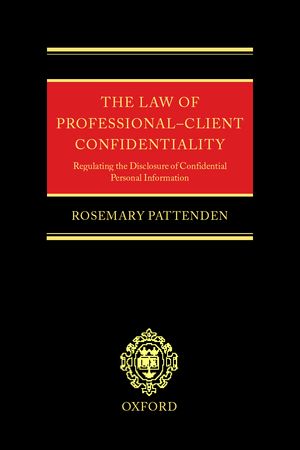 ISBN13: 9780198268505
ISBN: 0198268505
Published: May 2004
Publisher: Oxford University Press
Country of Publication: UK
Format: Hardback
Price: Out of print

Drawing on many areas of law, including data protection, breach of confidence, the law of evidence, human rights, tort and contract and taking into account relevant soft law and ethical guidance by the professions, the book seeks to provide authoritative answers to two questions:-
What confidential personal information concerning a client may, or must, the professional disclose to:-
1) the client,
2) others, including courts, tribunals and inquiries
What can be done, through litigation or other means, if confidential personal client information is disclosed or used for an improper purpose by the professional or some third party.
The black-letter law is supplemented by in-depth coverage of how the legal issues arise, and are dealt with, in practice (both in the UK and in other jurisdictions). Numerous examples are cited from a wide variety of professional contexts ranging from the medical, legal, and financial to the social services and education.
This work will be an essential reference tool for those advising either the professional or the individual client on issues relating to the disclosure of confidential personal information. Its depth of coverage (eg. on the issue of consent to disclosure) will mean that it will also be of application in the field of confidentiality and privacy more generally.