The Law of Energy Underground: Understanding New Developments in Subsurface Production, Transmission, and Storage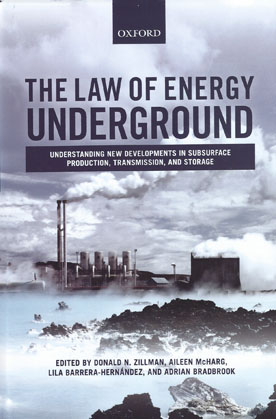 ISBN13: 9780198703181
Published: March 2014
Publisher: Oxford University Press
Country of Publication: UK
Format: Hardback
Price: £122.50

While energy has been extracted from the ground for two centuries, recent years have seen transformative changes to how easy it is to access underground energy resources.
This book investigates the key challenges and legal consequences of recent developments in the use of the subsurface as a source of energy. It provides a comprehensive analysis of the new technologies that have made this possible, such as the extraction of unconventional oil and gas resources through horizontal drilling and hydraulic fracturing, also known as fracking.
Further developments include the expanded use of geothermal energy, which has the potential to beome a major renewable energy source. The subsurface can also be utilised for long-term disposal or storage of environmentally harmful by-products of energy use, such as carbon capture and storage (CCS), and disposal of spent nuclear fuel and other nuclear waste. Successful development of these technologies could enhance the use of fossil and nuclear energy by reducing the harm caused by the release of greenhouse gases and harmful radiation.
The authors bring together a wide variety of expertise and knowledge to examine the legal implications of the development and control of these underground activities. They provide an invaluable understanding of the legal frameworks applicable to the extraction of underground energy, both at the international level and in a number of important national jurisdictions.
Importantly, the book analyses the different regulatory responses to these developments across five continents, and assesses in detail the environmental impact of new energy extraction technologies.