Corporate Boards in European Law: A Comparative Analysis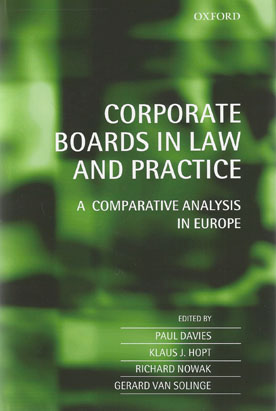 ISBN13: 9780198705154
Published: November 2013
Publisher: Oxford University Press
Country of Publication: UK
Format: Hardback
Price: £215.00

Despatched in 3 to 5 days.
Corporate boards play a central role in corporate governance and are thus regulated in the corporate law and corporate governance codes of all industrialized countries. Yet while there is a common core of rules on the boards considerable differences remain.
These differences depend partly on shareholder structure, partly on historical, political and social developments and especially employee representation on the board. More recently, in particular with the rise of the international corporate governance code movement, there is a clear tendency towards convergence, at least in terms of the formal provisions of the codes.
This book analyses the corporate boards, their regulation in law and codes and their actual functioning in ten European countries (Belgium, France, Germany, Italy, the Netherlands, Poland, Spain, Sweden, Switzerland and the United Kingdom). It offers the most up to date practical and analytical information on boards in Europe by leading company law experts.
The issues addressed include: board structure, composition and functioning (one tier v. two tier, independent directors, expertise and diversity, separating the chair and the CEO functions, information streams, committees, voting and employee representation); enforcement by liability rules (in particular conflicts of interest), incentive structures (remuneration) and shareholder activism.