Textbook on Administrative Law 8th ed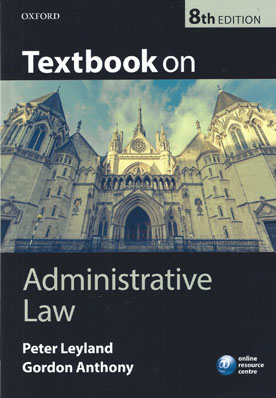 ISBN13: 9780198713050
Published: July 2016
Publisher: Oxford University Press
Country of Publication: UK
Format: Paperback
Price: £39.99

The eighth edition of Textbook on Administrative Law has been substantially revised and updated to provide a concise and topical account of this fast-moving area of law.
The guiding theme of this acclaimed textbook is how accountability is achieved through a 'grievance chain' comprising Parliament, informal methods of dispute resolution, ombudsmen, tribunals, and, particularly, by the courts through judicial review.
This edition remains as accessible as ever, fully exploring the core areas of the subject and setting them in a contextual framework. In addition to wide-spread recognition as an invaluable core text for LLB and GDL students, Textbook on Administrative Law is a stimulating introduction for postgraduates and for non-law undergraduates with an interest in the field.
The book is accompanied by an Online Resource Centre providing a wide range of extra resources to further support students in their studies, including:-
Updates in constitutional and administrative law
An extensive range of web links
An interactive timeline of significant public law events throughout history
'Oxford News Now'- a live feed on topical public law issues, sourced from news websites such as the BBC and Guardian