European Union Design Law: A Practitioner's Guide 2nd ed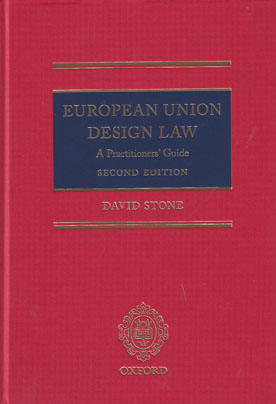 ISBN13: 9780198719298
Published: January 2016
Publisher: Oxford University Press
Country of Publication: UK
Format: Hardback
Price: £185.00

Over ten years after the beginning of the Community Registered Designs system of the European Union (EU), the Office for Harmonization in the Internal Market (OHIM) and European courts continue to grapple with many of the new legal concepts introduced, making this a complex and fluctuating area of law.
This new edition of the highly-respected English-language text offers a concise, accessible and highly readable volume covering the complete design law of the European Union. It offers a concise history of the legislation's development and aims, tracing the introduction of fundamental changes to the protection of industrial and ornamental designs throughout the EU.
This is followed by a detailed and comprehensive examination of the interpretations provided by the OHIM, Court of Justice and General Court, and the Community Design Courts of EU Member States. The book quotes primary legal provisions in context, supported by extensive citation of case law from the OHIM and many European jurisdictions.
Chapters cover topics including the definition of terms, the system of courts and tribunals with jurisdiction for Community Design disputes, overlap with other intellectual property rights, exclusions from protection, the unification of design rights across the EU, the right to the Community Design, assessment and invalidity of prior design and novelty arguments, the procedure of the OHIM, infringement and applicable defences, jurisdictional issues, and the Design Directive.
European Design Law: A Practitioner's Guide is an essential reference text for practitioners throughout the European Community.