The Last Waltz of the Law of Nations: A Translation of The 1803 Edition of de Rayneval's The Institutions of Natural Law and the Law of Nations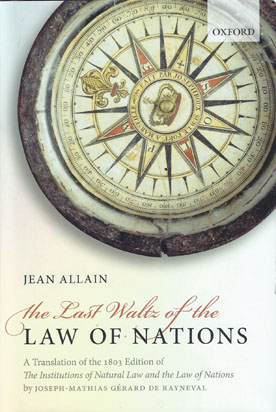 ISBN13: 9780198725138
Published: June 2019
Publisher: Oxford University Press
Country of Publication: UK
Format: Hardback
Price: £70.00

The 1803 edition of de Rayneval's The Institutions of Natural Law and the Law of Nations served as the leading French text on international law during the first half of the nineteenth century.
Written at a time when international law was wholly bilateral in nature, the book decisively sets out the Law of Nations as it stood at the time. Despite its influence on the development of international law in the nineteenth century, the work is now difficult to obtain, and has never before been translated into English.
Through his faithful translation and introductory essay, Jean Allain reintroduces this classic work to a new audience. Keeping in line with the fundamental approach and underpinning of de Rayneval's work, this new text considers issues of the Law of Nations, with Book I focusing on self-preservation of the individual turning to self-preservation of political grouping to the creation of the States as a means of ensuring its and its people's self-preservation.
In Book II - On State to State Relations - the emphasis shifts from natural law to the Law of Nations. Here consideration is given to States and issues of independence, of trade and alliances, of the acquisition of territory, of boundaries, of reprisals, and issues of foreigners, ambassadors and titles and rank.
Finally, Book III - On the State of War and Peace - takes readers through a more clearly developed part of the Law of Nations with regard to the origins, causes, effects, and conduct of war with further sections devoted maritime law and the law of treaties.
While Book II and III set out the law of the Law of Nations, the Appendix then considers the role of the Sovereign and his political agents in setting and carrying out a State's foreign policy.