Covert Policing: Law and Practice 2nd ed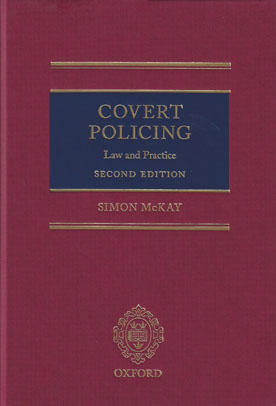 ISBN13: 9780198725756
Published: March 2015
Publisher: Oxford University Press
Country of Publication: UK
Format: Hardback
Price: £132.50

Following the much publicised Mark Kennedy case, the question of the necessity and proportionality of covert police operations has been widely debated. At the same time, the use of covert tactics is becoming more widespread and is a feature of routine as well as more serious cases. It is a fast changing area of law which is notoriously opaque and esoteric.
This new edition of Covert Policing: Law and Practice provides clear, up to date guidance on this complex topic and is an essential resource for practitioners working on cases involving covert operations. This book provides a comprehensive review of the law governing covert policing activities.
It sets out the framework within which covert policing operations should be planned and managed to enable practitioners working for either the defence or prosecution to critically consider the legality and propriety of evidence obtained in cases where covert policing resources have been deployed, including applications for Public Interest Immunity.
The text places considerable emphasis on the need for a proper methodology of approach to the Regulation of Investigatory Powers Act 2000 and other legislation affecting this area. It examines the statutory and procedural requirements relating to covert policing deployments, from the interception of communications and directed and intrusive surveillance resources, through to the use and conduct of covert human intelligence sources.
It examines the oversight mechanisms that exist to protect those subjected to invasions of privacy without the proper criminal or civil processes and covers recent developments arising from the Protection of Freedoms Act, Data Retention and Investigatory Powers Act, secret hearings, the Mark Kennedy case and revelations concerning mass interception.
Written in a way that seeks to highlight the effect of the legislation and the principles emanating out of the case law, this book is an essential resource for practitioners engaged in cases where covert policing issues are likely to arise. It will also be of assistance to those working for the police and other public authorities authorised under the Regulation of Investigatory Powers Act 2000 to carry out surveillance and other covert activities.