The Three Laws of International Investment: National, Contractual, and International Frameworks for Foreign Capital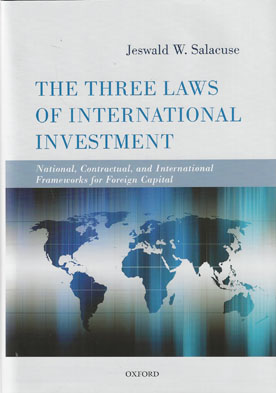 ISBN13: 9780198727378
Published: September 2014
Publisher: Oxford University Press
Country of Publication: UK
Format: Paperback (Hardback in 2013)
Price: £45.49

Usually despatched in 1 to 3 weeks.
Three different legal frameworks are applicable to foreign investment: the laws of the host state and the investor's home country, the contract between the host state and the investor, and the rules and principles of international investment law.
These three bodies of law interact with each other and must be analysed together when interpreting an investment agreement or arbitrating a dispute. This book examines the content of each of these three legal frameworks and explores how they influence the flow of foreign investment.
The book is divided into five parts. Part I, after explaining the contemporary nature and significance of international investment, examines the theoretical and practical links between law and the investment process. Part II explores the nature of national laws regulating foreign investment.
Part III explores the nature of the contractual framework for international investments, looking at their negotiation, content, and stability. Part IV sets out the international legal framework governing foreign investment, focusing on the content and nature of bilateral investment treaties and on general principles. Finally, Part V considers how the three legal frameworks interact with each other.
By comprehensively examining each of the applicable legal frameworks, this book provides a vital overview of the laws, rules, and regulations governing foreign investment for lawyers, scholars, students, and government officials working in the field.