Testamentary Capacity: Law, Practice, and Medicine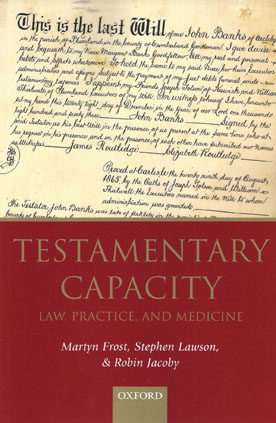 ISBN13: 9780198727521
Published: March 2015
Publisher: Oxford University Press
Country of Publication: UK
Format: Paperback
Price: £83.00

Testamentary capacity is an increasingly difficult and important area in will preparation. The rise in capacity issues, associated with the increasing aging population and longer life expectancy, has become a fruitful area for dispute and litigation.
This book equips practitioners with the knowledge and practical guidance needed in this complex but commonplace problem area. Featuring an explanation of the law relating to testamentary capacity, the book also includes a practical section on the role of the will draftsman.
Covering all associated areas such as interviews, questioning, recording of relevant information, and risk management policies, these issues are put into context by a guide to mental health issues that can affect capacity.
This books also features a section on litigating in this area including pre-litigation considerations, a guide to ADR and settlement, and procedural issues. Written by experienced wills practitioners and an expert in old age psychiatry, this book is the first to link relevant medical issues directly to law and practice, presenting all the information a draftsman or litigator needs on the subject. This is an invaluable resource for all concerned with issues of testamentary capacity.