Criminology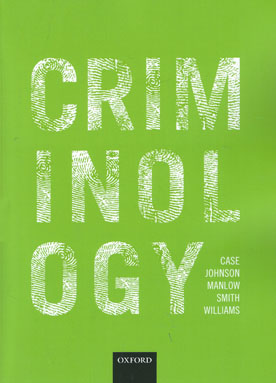 ISBN13: 9780198736752
Published: March 2017
Publisher: Oxford University Press
Country of Publication: UK
Format: Paperback
Price: Out of print

Criminology is a core, introductory textbook that takes students further. From the first chapter, students are encouraged to regard themselves as producers of criminological knowledge. Starting from the basics, the book takes students on a journey through the subject. This begins with what crime is and the theories that try to explain it, through society's response to crime, and ultimately to how to carry out independent research and plan first steps in a career.
The critical, applied approach is emphasized through some of the many features that are integrated throughout the book. These include conversations with authentic voices from the field, compelling personal insights from the authors, and challenges to students to question assumptions, apply knowledge and critically reflect on their personal viewpoints.
The ultimate goal behind Criminology is a bold, important, and ambitious one. Both student-focused and research engaged, the purpose of the book is to contribute towards producing the next generation of criminologists who are switched-on, excited, active, and - above all - critical.