The Scottish Independence Referendum: Constitutional and Political Implications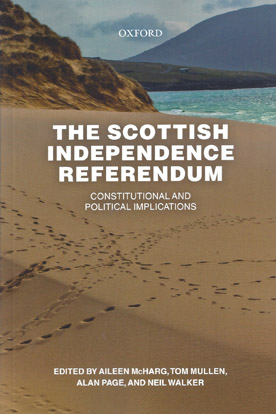 ISBN13: 9780198755524
Published: June 2016
Publisher: Oxford University Press
Country of Publication: UK
Format: Paperback
Price: £55.00

Despatched in 3 to 5 days.
The September 2014 Scottish independence referendum was an event of profound constitutional and political significance, not only for Scotland, but for the UK as a whole.
The extraordinary success of the Scottish National Party at the 2015 General Election also indicates that the territorial dimension to UK constitutional politics is more prominent than ever, destabilising key assumptions about the location and exercise of constitutional authority within the UK. The political and constitutional implications of the referendum are still unfolding, and it is by no means certain that the Union will survive.
Providing a systematic and academic analysis of the referendum and its aftermath, this interdisciplinary edited collection brings together public lawyers, political scientists, economists, and historians in an effort to look both backwards to, and forwards from, the referendum.
The chapters evaluate the historical events leading up to the referendum, the referendum process, and the key issues arising from the referendum debate. They also explore the implications of the referendum both for the future governance of Scotland and for the UK's territorial constitution, drawing on comparative experience in order to understand how the constitution may evolve, and how the independence debate may play out in future.