Specialized Administrative Law of the European Union: A Sectoral Review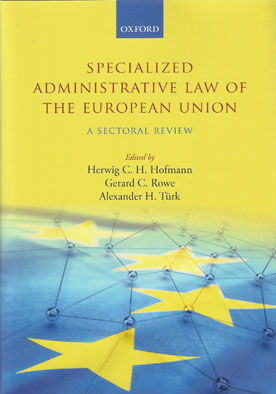 ISBN13: 9780198787433
Published: December 2018
Publisher: Oxford University Press
Country of Publication: UK
Format: Hardback
Price: £125.00

This volume deals with the law governing the administrative implementation of European Union public policy. Much of this law is specific to individual policy sectors. The volume provides a study of such specialized admininstrative law for more than twenty sectors.
This cross-sectoral approach allows for detailed comparisons of EU administration in diverse policy fields. It identifies situations where legal structures and approaches may be unnecessarily duplicated, thus indicating where a comprehensive, general system could be advantageous for both Union law and policy achievement.
The comparative nature of the study also draws attention to policy fields which have proven to be testing grounds for approaches adopted subsequently in other areas. In addition, the work highlights the distinctive, highly networked, and strongly cooperative character of EU administration, as a reflection of, and a foundation for, the operative nature of the European Union as a whole.