The Oxford Handbook of Caribbean Constitutions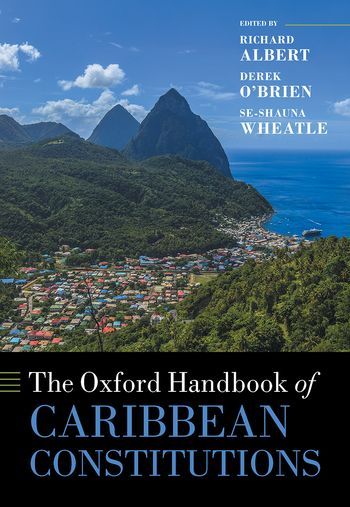 ISBN13: 9780198793045
Published: July 2020
Publisher: Oxford University Press
Country of Publication: UK
Format: Hardback
Price: £125.00

The Oxford Handbook of Caribbean Constitutions offers a detailed and analytical view of the constitutions of the Caribbean region, examining the constitutional development of its diverse countries. The Handbook explains the features of the region's constitutions and examines themes emerging from the Caribbean's experience with constitutional interpretation and reform.
Beginning with a Foreword from the former President of the Caribbean Court of Justice and an Introduction by the lead editor, Richard Albert, the remainder of the book is divided into four parts. Part I, 'Caribbean Constitutions in the World', highlights what is distinctive about the constitutions of the Caribbean. Part II covers the constitutions of the Caribbean in detail, offering a rich analysis of the constitutional history, design, controversies, and future challenges in each country or group of countries. Each chapter in this section addresses topics such as the impact of key historical and political events on the constitutional landscape for the jurisdiction, a systematic account of the interaction between the legislature and the executive, the civil service, the electoral system, and the independence of the judiciary.
Part III addresses fundamental rights debates and developments in the region, including the death penalty and socio-economic rights. Finally, Part IV features critical reflections on the challenges and prospects for the region, including the work of the Caribbean Court of Justice and the future of constitutional reform.
This is the first book of its kind, bringing together in a single volume a comprehensive review of the constitutional development of the entire Caribbean region, from the Bahamas in the north to Guyana and Suriname in South America, and all the islands in between. While written in English, the book embraces the linguistic and cultural diversity of the region, and covers the Anglophone Caribbean as well as the Spanish-, French-, and Dutch-speaking Caribbean countries.