The Irish Supreme Court: Historical and Comparative Perspectives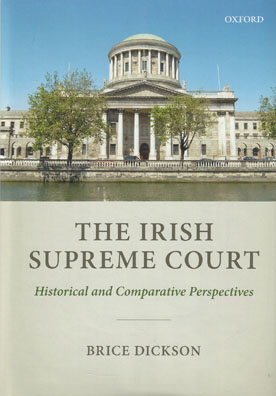 ISBN13: 9780198793731
Published: January 2019
Publisher: Oxford University Press
Country of Publication: UK
Format: Hardback
Price: £75.00

Despatched in 3 to 5 days.
This book examines the jurisprudence of the Supreme Court of Ireland since its creation in 1924. It sets out the origins of the Court, explains how it operated during the life of the Irish Free State (1922-1937), and considers how it has developed various fields of law under Ireland's 1937 Constitution.
As well as constitutional law (and the Court's views on the status and legal system of Northern Ireland), the book looks at administrative law, criminal justice, family law, and the law of obligations. There are also chapters on the Supreme Court's interaction with EU law and ECHR law.
The argument throughout is that, while the Court has been well served by many of its judges, who on occasion have manifested a healthy degree of judicial activism, there are still several legal fields in which the Court has not developed its jurisprudence as clearly or as imaginatively as it might have done. It has often displayed undue conservatism and deference. Its performance has been hampered by its extreme workload, generated by the absence of an ability to control the numbers of appeals brought to it.
However, the creation of a new Court of Appeal in 2014 has freed up the Supreme Court to act in a manner more analogous to that adopted by supreme courts in other common law countries. The Court's future may yet be bright.