The Framework of Corporate Insolvency Law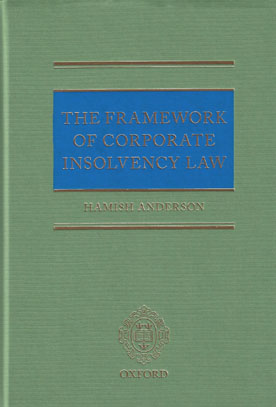 ISBN13: 9780198805311
Published: May 2017
Publisher: Oxford University Press
Country of Publication: UK
Format: Hardback
Price: £187.50

This book provides a critical examination of modern English corporate insolvency law, in particular the procedures under the Insolvency Act 1986, from both conceptual and functional points of view.
It focuses throughout on identifying a rational explanation for the form that the rules and institutions of the modern law take or, where there is no such rational explanation, the history which has resulted in the present position.
A central theme of the book is that the nature and fundamental purpose of insolvency proceedings themselves dictate many of the features of English insolvency proceedings. For example, collective execution on behalf of creditors necessitates definition of the insolvent estate and the provision of rules concerning provable debts and transaction avoidance.
Many key features of the insolvency procedures are therefore essentially matters of practicality rather than principle, albeit practicalities applied justly and fairly.
The book covers the nature and purpose of insolvency law; the procedures; the administration, supervision and regulation of insolvency proceedings; the insolvent estate and transaction avoidance; investigation and wrongdoing by directors; phoenixism and pre-packing; distribution of the insolvent estate; and, lastly, cross-border insolvency.
It examines the various principles of insolvency law in the context of practice, drawing upon historical perspectives where appropriate. By explaining how the law takes the form that it does, the book promotes an understanding of the present law and institutions as a whole, and shows how this understanding might inform future developments.