Blackstone's Criminal Practice 2019 (with Supplements 1, 2 & 3)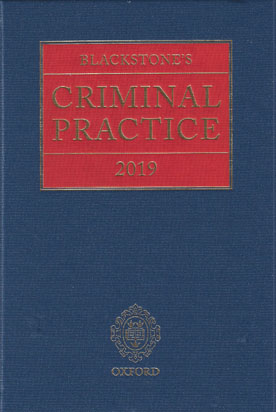 ISBN13: 9780198828457
Published: October 2018
Publisher: Oxford University Press
Country of Publication: UK
Format: Hardback & 3 Supplements
Price: Out of print

A statement from Lord Justice Hickinbottom (Chair, Judicial Library Committee)
Following a survey of all Resident Judges in 2016, the decision was taken centrally to provide Blackstone's Criminal Practice in every Crown courtroom in England & Wales. Previously, each court centre determined whether to order and use Blackstone or Archbold. Judges continued to be able to access both works online and use their personal allowances to buy books of their choosing. At the time, it was made clear that this decision would be reviewed at a later date.
Over the last eighteen months the judiciary and the Judicial Library Service have worked closely with Oxford University Press and Thomson Reuters to provide input into the forthcoming editions of each of the works. I am now pleased to confirm that, as a result of discussions with OUP and Thomson Reuters, for the forthcoming legal year, every Crown courtroom will be provided with one copy of each book. This will enable us to conduct a meaningful review, which will inform the decision on which book will be provided from October 2019.
I encourage all criminal judges to consult and make use of both publications, whether online or in print, prior to the review which is expected to be undertaken in Spring 2019. The Judicial Library Committee will now begin work on how best to conduct the review, and further information on the content and format will be issued in due course.
Led by Professor David Ormerod QC and David Perry QC, our team of authors has been hand-picked to ensure that you can trust our unique combination of authority and practicality. With a simultaneous supplement containing essential materials, you can rely on Blackstone's Criminal Practice to be your constant companion through every courtroom appearance.
This new edition has been meticulously revised to provide extensive coverage of all new legislation, case law, and Practice Directions.
Your single point of reference for the criminal courts
Professor David Ormerod QC and David Perry QC lead a team of contributors whose courtroom expertise you can rely on
Clear, common-sense navigation coupled with a logical, intuitive structure - instant access to the information you need
Practical guidance on sentencing and procedure - your essential companion through every stage of every trial
Useful materials supplement contains the materials you need to access most frequently - includes the full updated text of the Criminal Procedure Rules, the Criminal Practice Directions, and the Sentencing Guidelines Supplements, quarterly updates, web updates, and email alerts keep you fully abreast of all developments
New to this Edition:


Criminal Procedure Rules (integrated with the Criminal Practice Directions) and Sentencing Guidelines.
Distinguished new members of the Blackstone's Advisory Editorial Board: HHJ Michael Hopmeier, HHJ Steven Everett, HHJ Heather Norton, HHJ Jonathan Cooper
Coverage of new cases and legislation, the latest Sentencing Guidelines, and updates to the Criminal
Procedure Rules and Practice Directions Redesigned supplement and revised chapters and index for easier navigation in court
The 2nd Cumulative Supplement was published in February 2019
The Main Work & 1st Supplement were published in October 2018