Brexit and Financial Regulation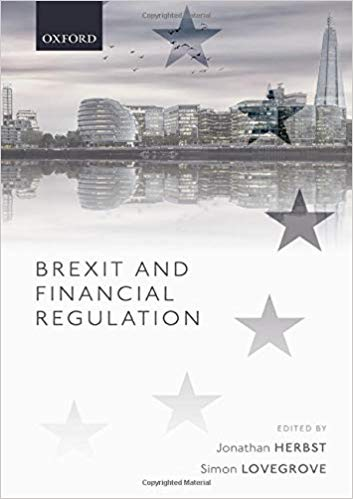 ISBN13: 9780198840794
Published: January 2020
Publisher: Oxford University Press
Country of Publication: UK
Format: Paperback
Price: £58.00

Brexit will have a significant impact on the UK financial services system. This book provides guidance on the complexity of Brexit as it applies to financial institutions through the eyes of leading lawyers.
It covers issues of market access, transposition of directly applicable regulation, the assumption of roles carried out by the European Supervisory Authorities ('ESA'), and the impact on cross-border contracts. Brexit and Financial Regulation navigates the future of the EU and UK's approach to bank and investment firm authorisation, the EU concept of equivalence and changes to key pieces of EU legislation.
It identifies which pieces of EU legislation contain equivalence provisions and describes the equivalence process. It considers issues relating to characteristic performance, dealing with the test of where services are actually carried out in the EU.
The book addresses communications from the EU institutions on the approach to be taken regarding the authorisation of banks and investment firms in the EU27. Of particular importance is consideration of the opinions issued in 2017 by the European Banking Authority and the European Securities and Markets Authority. This analysis also includes a review of the approach taken by key EU27 jurisdictions such as Germany, France, and the Netherlands.
Crucially, the work considers the position of HM Treasury, the Prudential Regulation Authority (PRA) and Financial Conduct Authority (FCA) in taking on the roles of the ESAs, and how highly technical and detailed EU regulatory technical standards and ESA guidance will be transposed into the PRA Rulebook and FCA Handbook. It covers the European Union (Withdrawal) Act 2018 and relevant changes to financial services legislation. The Overseas Persons Exclusion contained in the Regulated Activities Order is also discussed.
The book also examines the role of international regulatory bodies and international standards. These international standards and agreements have been implemented in EU legislation such as the Capital Requirements Directive IV and the Capital Requirements Regulation. The development of international regulation and the UK's influence on it are important components in the post Brexit landscape. Breaking Brexit issues into accessible, structured chapters, leading practitioners from across the City of London unpack legal complexities, sharing a wealth of experience. This is a timely and invaluable work for all those advising or dealing with financial institutions in the UK and the EU.