The International Rule of Law: Rise or Decline?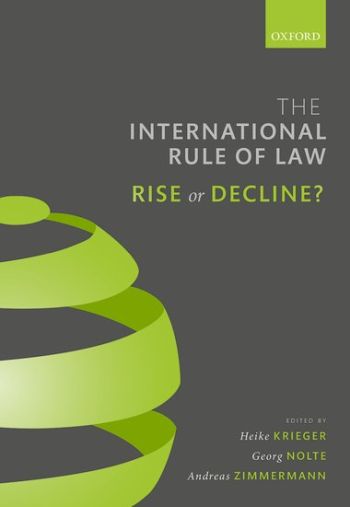 ISBN13: 9780198843603
Published: August 2019
Publisher: Oxford University Press
Country of Publication: UK
Format: Hardback
Price: £95.00

Despatched in 5 to 7 days.
This edited volume examines the role of international law in a changing global order. Can we, under the current significantly changing conditions, still observe an increasing juridification of international relations based on a universal understanding of values? Or are we, to the contrary, facing a tendency towards an informalization or a reformalization of international law, or even an erosion of international legal norms? Would it be appropriate to revisit classical elements of international law in order to react to structural changes, which may give rise to a more polycentric or non-polar world order? Or are we simply observing a slump in the development towards an international rule of law based on a universal understanding of values?
In eleven chapters, distinguished scholars reflect on how to approach these questions from historical, system-oriented and actor-centered perspectives. The contributions engage with the rise of European international law since the 17th century, the decay of the international rule of law, compliance as an indicator for the state of international law, international law and informal law-making in times of populism, the rule of environmental law and complex problems, human rights in Europe in a hostile environment, the influence of the BRICS states on international law, the impact of non-state actors on international law, international law's contribution to global justice, the contestation of value-based norms and the international rule of law in light of legitimacy claims.