The Law of Rescission 3rd ed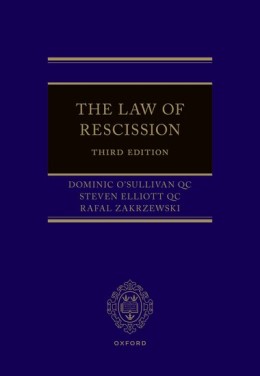 ISBN13: 9780198852285
Published: March 2023
Publisher: Oxford University Press
Country of Publication: UK
Format: Hardback
Price: £275.00

The Law of Rescission is an extensive analysis of the law concerning the rescission of contracts and gifts in England and Wales, and also contains detailed reference to the law of other parts of the Commonwealth including Australia, New Zealand, Canada, British Virgin Islands, Cayman Islands, Isle of Man, Singapore, Hong Kong, Malaysia, and India. This is the leading work in the field.
The revised third edition builds on the established format of the previous edition, fully updating case law and considering how developments, such as the introduction of machine generated contracts, impacts on the law. The book also incorporates new legislation, such as The Insurance Act 2015.
Rescission is frequently sought in commercial, property, and insurance disputes, making this book an essential reference for all lawyers involved in civil litigation, as well as for civil judges. The Law of Recission has has been cited by courts in England and Wales, as well as Australia and Canada. Academics will also find this book of great interest when researching contracts, remedies, or restitution.
Provides a truly unique assessment of the laws of rescission
Leading work on the law of rescission as it applies in England and Wales, as well as in Commonwealth nations
Comprehensive analysis provided by an author team who combine academic knowledge with practitioner experience
New to this Edition:
Covers the incorporation of The Insurance Act 2015
New technology such as machine-generated contracts, and the potential for errors in these are considered from cases such as Quoine Pte Ltd v B2C2 Ltd [2020]