Blackstone's Criminal Practice 2021 (with Supplements 1, 2 & 3)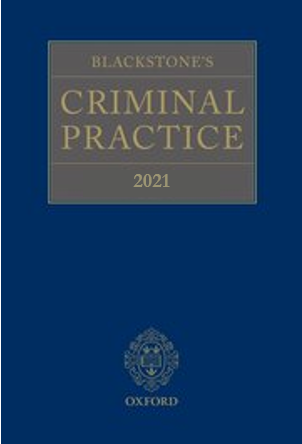 ISBN13: 9780198867258
Published: October 2020
Publisher: Oxford University Press
Country of Publication: UK
Format: Hardback & 3 Supplements
Price: Out of print

Led by Professor David Ormerod and David Perry QC, Blackstone's Criminal Practice brings together an expert team of authors with a commitment to deliver a work which offers the right coverage for criminal practice and authoritative statements of the law in a practical and accessible format. With an accompanying supplement containing essential primary materials and commentary updates throughout the year, and access to regular web updates and the additional analysis provided by Blackstone's Briefing, you can rely on Blackstone's Criminal Practice to be your constant companion.
The 2021 edition has been meticulously revised to provide extensive coverage of all new legislation, case law, Sentencing Guidelines, and Criminal Procedure Rules 2020 and Practice Directions. Throughout the COVID-19 pandemic, Blackstone's Criminal Practice 2021 continues to provide readers with regular digital-only Special Supplements to cover temporary changes to the law and procedure implemented to address the criminal justice response to COVID-19.
Renowned for its ease of use with a clear, common-sense, structure and index to make the information you need instantly accessible.
Practical guidance on procedure and sentencing ensures the work is your essential companion through every stage of every trial.
Supplement 1, which will be available shortly after publication of the main book, contains the full updated text of the Criminal Procedure Rules, the Criminal Practice Directions, and the Sentencing Guidelines.
Additional two supplements, regular newsletters, web updates, and email alerts keep you fully abreast of all developments.
New to this edition:
Legislative developments including the Terrorist Offenders (Restriction of Early Release) Act 2020, the Misuse of Drugs (Amendment) (England, Wales and Scotland) Regulations 2019 and the Money Laundering, Terrorist Financing and Transfer of Funds (Amendment) Regulations 2019.
Coverage of key cases in Part A; Criminal Law includes Barton on dishonesty; Varley on conspiracy to commit fraud; Campenau and Mohamadi on intoxication; Foy on diminished responsibility and the impact of alcohol and drugs; and Abdulrahman on whether a finding that Convention rights have been infringed means a conviction is unsafe.
The updates on offences include abuse of process in cases following the Modern Slavery Act 2015 and DPP v Barreto on the interpretation of "use of a mobile phone whilst driving". The latest updates on Procedure include consideration of the availability of legal aid in contempt proceedings, treatment of costs for private prosecutions, and costs for representatives of defendants unfit to plead.
Updated case coverage in Part F; Evidence; includes Twigg on the admissibility of specimens obtained in breach of procedures under the RTA, and Nguyen on the evidential use that may be made of previous inconsistent statements.
The Criminal Procedure Rules 2020 (integrated with the Criminal Practice Directions 2015), and the Sentencing Guidelines, all with an updated paragraphing structure to reflect the primary instruments for ease of use and new cross-reference tables to make it easier to find Sentencing Guidelines for offences in the Crown Court and Magistrates' Courts.
Updates of the Sentencing Guidelines, including Public Order Offences and the Overarching principles: Sentencing offenders with mental disorders, developmental disorders, or neurological impairments, in force from October 1st 2020.
New expert contributors including HHJ Steven Everett (the Hon Recorder of Chester) HHJ Martin Edmunds QC (the Hon Recorder of Kensington), Professor Sally Kyd, Professor Alexander Mills, and Karl Laird.
Digital Special Supplements providing coverage of the criminal justice approach to COVID-19.