Theory of Interpretation of the European Convention on Human Rights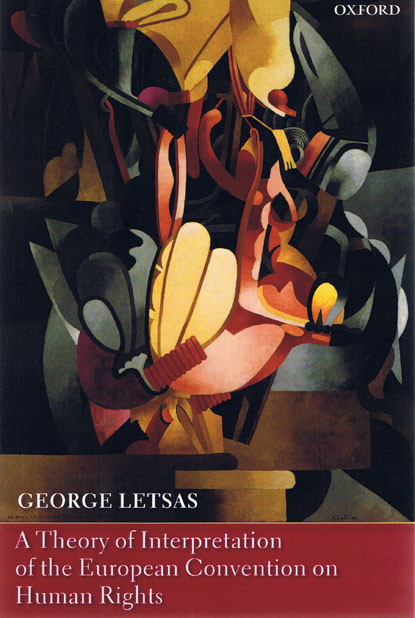 ISBN13: 9780199203437
Published: December 2007
Publisher: Oxford University Press
Country of Publication: UK
Format: Hardback
Price: £92.00

Despatched in 3 to 5 days.
This book looks at both how the European Convention on Human Rights has been interpreted and how it ought to be interpreted. Unlike a purely doctrinal approach, it aims at proposing an evaluative theory of interpretation for the European Convention on Human Rights. And unlike a purely normative account, it seeks to locate interpretive values within the history of the ECHR by surveying and analysing all the relevant judgements of the European Court of Human Rights. Consequently, the book discusses cases as much as it discusses philosophical theories, seeking to strike the appropriate balance between the two.
Recent developments have raised mportant jurisprudential issues in relation to the interpretation of the ECHR which point to the relationship between the two foundational principles of a supranational human rights system: state sovereignty on one hand and the universality of human rights on the other. This book analyses the idea that creative interpretation and choice in interpretation amounts, by default, to illegitimate discretion and is used to wave the flag of judicial self-restraint. It balances this against the inconsistency or lack of clarity in the methods used by the Court, most notably the margin of appreciation doctrine, and looks at the criticism often levelled at the Court that its use of the doctrine masks the real basis for its decisions.
The cases that have been coming before the European Court of Human Rights in recent years pose serious interpretive challenges. Does the right to life under art. 2 ECHR include the right to terminate one's life? Does the right to private life under article 8 ECHR include the right to sleep at night free from airplane noise? Does the right to property under art. 1 Protocol 1 ECHR entitle the former King of Greece to claim compensation for the expropriation of royal property, following a referendum? Do homosexual couples have a right to adopt under art. 8 ECHR?
This book argues that how law should be interpreted, and what legal rights individuals have, are important questions of political morality that are both capable, and in need of, principled justification. Finally, the book argues that evolutive interpretation does not refer to how most European member states now understand their obligations under the Convention but to how they should understand them given the egalitarian values that they share, and defents the idea of an emerging consensus combined with a theory of autonomous concepts as a way to provide the appropriate authority for the Court to adopt an egalitarian theory of human rights.