Mapping the Law: Essays in Memory of Peter Birks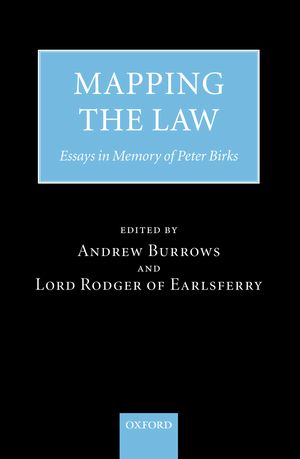 ISBN13: 9780199206551
ISBN: 0199206554
Published: August 2006
Publisher: Oxford University Press
Country of Publication: UK
Format: Hardback
Price: £105.00

This collection of essays celebrates the life and work of Peter Birks, who was Regius Professor of Civil Law at the University of Oxford, and Fellow of All Souls College. Widely known as one of the most prolific legal scholars for over twenty years, his contribution to English obligations law is legendary. He was Founder of the Clarendon Law Lectures, editor of the Clarendon Law Series, editor of the Oxford English Law Series, and author of several works on the English law of restitution, comparative restitution, and unjust enrichment.
This works in this volume cover the English law of unjust enrichment and restitution, comparative perspectives on unjust enrichment and restitution, Roman law, and legal history, reflecting the range on Peter Birks' work and influence.
As one of the most distinguished academic lawyers of his generation Peter Birks' contribution to legal scholarship grew to be recognised as one of the most outstanding by a British jurist in the second half of the twentieth century. This collection attempts to acknowledge and pay tribute to Peter Birks' work.
Covers a wide range of topics of interest to private law scholars, ranging from unjust enrichment and restitution, comparative perspectives, Roman law, and legal history
Written by the foremost scholars in their areas of contribution