English Private Law 2nd ed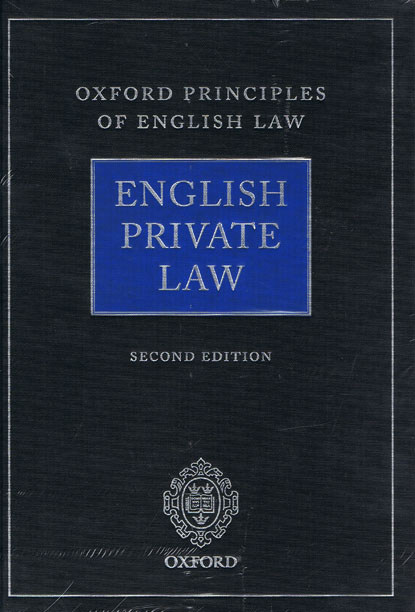 ISBN13: 9780199227945
Published: December 2007
Publisher: Oxford University Press
Country of Publication: UK
Format: Hardback
Price: Out of print

Following its publication in 2000, this work quickly established itself as a key point of reference on English private law for lawyers in the UK and throughout the world. The book acts as an accessible first point of reference for practitioners approaching a private law issue for the first time, whilst simultaneously providing a lucid, concise and authoritative overview of all the key areas of private law. Each section is written by an acknowledged expert, using their experience and understanding to provide a clear distillation and analysis of the subject.
This new edition includes all the recent developments since the publication of the first edition and the two supplements, the last of which published in 2003. It has also been expanded to include coverage of a number of key areas that were previously not addressed, including insurance, banking, carriage of goods by land and air and equitable wrongs. In addition, the chapters on general property law and civil procedure have been restructured as to make the underlying principles more readily accessible.
No other single text provides such wide-ranging and lucid coverage of English Private Law as this one. It has come to be regarded as an essential item for every law library, reflecting its appeal to both English practitioners and those working in other jurisdictions. At the same time the book's depth of analysis, combined with its ease of reference, make it a favourite among acadmics and students worldwide.
New to this edition:-
Now edited by Professor Andrew Burrows
Published in one single portable volume to enable ease of reference
New Chapters on Insurance, Carriage of Goods by Land and Air, and on Banking Law
Revision of all chapters with extensive work done on the Companies, Property, and Civil Procedure sections