Contract Terms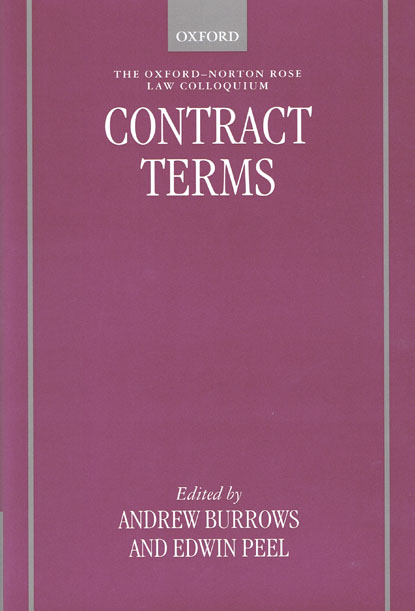 ISBN13: 9780199229376
Published: July 2007
Publisher: Oxford University Press
Country of Publication: UK
Format: Hardback
Price: £142.50

This book contains the papers written for the seventh volume in the Oxford-Norton Rose Law Colloquium Series, which was held in St Hugh's College, Oxford, on 22nd-23rd September, 2006. As with past colloquia, this brought together practitioners (solicitors, barristers and Judges) and academics to examine and discuss an area of commercial law. The belief underpinning all the colloquia has been that the sharing of views on central topics of commercial law can only work to the mutual advantage of both academics and practitioners. The topic chosen this year was Contract Terms which is a topic of everyday importance to all commercial lawyers. It is also an area in which academics have become increasingly interested in recent years.
The book begins with an introduction by the editors which draws out the central features of the discussions at the colloquium. It is followed by an introductory practitioners' perspective written by Richard Calnan of Norton Rose.
The colloquium papers have then been divided into three main sections. The first on 'Construction and Interpretation' comprises the papers written by Gerard McMeel, Edwin Peel, Andrew Burrows, Robert Stevens and Stefan Vogenauer. The second on 'Legislative Control of Unfair Terms' has papers by Elizabeth MacDonald, Susan Bright and Hugh Beale. The third on 'Issues Related to Particular Types of Term' looks at entire agreement clauses, termination clauses, force majeure clauses, retention of title clauses and choice of law clauses. This third section contains chapters written by John Cartwright, Ewan McKendrick, Simon Whittaker, Louise Gullifer and Adrian Briggs.
The papers have all been written by eminent academics and together they provide a stimulating and up-to-date examination of Contract Terms. The book will be essential reading for all solicitors involved in drafting contracts or in commercial litigation, commercial barristers, and academics interested in contract and commercial law. The foreword has been written by the senior Law Lord, Lord Bingham of Cornhill.
Written by a team of leading individuals
Topical discussion of contract terms
Covers an area of central importance to all commercial lawyers, and of increasing interest to academics
Unique and in-depth examination of the principles and policies involved in this area
Division of the work into three main sections offers a structured, clear and focused presentation of the papers