The Law of Habeas Corpus 3rd ed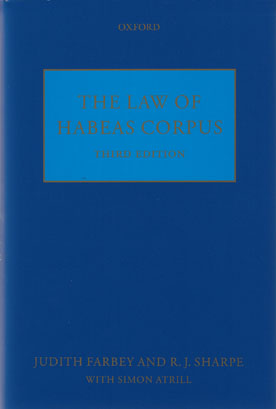 ISBN13: 9780199248247
Published: February 2011
Publisher: Oxford University Press
Country of Publication: UK
Format: Hardback
Price: £135.00

Habeas corpus is the principal means under the common law for the protection of personal liberty. By this ancient writ, the court assumes control over the body of a prisoner so it can discharge him or her to freedom if no proper legal cause can be shown for detention.
Habeas corpus secures release from any form of custody, whether decreed by the highest powers of the state or the lowest gangland slave-trader. Its reach is as diverse as the forms of confinement. For just two examples beyond the prison wall, a patient wrongly detained for compulsory medical treatment can invoke its protection and it can even be deployed to determine the proper parental custody of a child.
This volume looks first at the historical development of the writ, tracing its growth in significance until its emergence as an item of central constitutional importance. Having established the traditional place of habeas corpus, the volume goes on to examine the limits of the remedy today. It describes the modern workings of the application for habeas corpus and assesses the scope, function, and role of the procedure. It explores the relationship between habeas corpus and fundamental rights.
The volume critically surveys the nature of judicial review on habeas corpus and investigates past, present, and potential future uses of the writ. It aims to provide a comprehensive statement of current English law, with added discussion of the position in other Commonwealth countries. The volume concludes with a guide to procedure and sample forms.
Topic of great importance: liberty of the individual is a fundamental right and essential to the rule of law
Habeas corpus is the only remedy directly applicable to a human right
Complete and up-to-date statement of the law
Thorough exploration of the background and principles, together with practice and procedure
The book has been completely updated to reflect significant developments in the case law and the literature since the last edition in 1989
One new chapter will devote special attention to habeas corpus and fundamental rights, looking in particular at the Human Rights Act 1998, the European Convention on Human Rights and also the Canadian Charter of Rights and Freedoms
Another new chapter will explore first principles and examine the evolution of judicial review and its relationship to habeas corpus
For the first time, the book will include sample forms for practitioners in an extended section on practice and procedure