Commonhold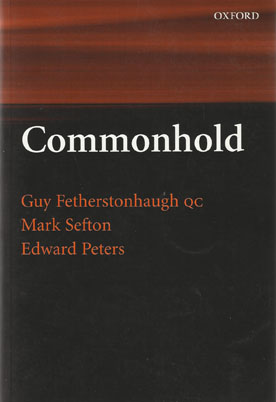 ISBN13: 9780199272242
ISBN: 0199272247
Published: February 2004
Publisher: Oxford University Press
Country of Publication: Uk
Format: Paperback
Price: Out of print

The book is a timely and complete guide to commonhold, providing an effective description of the new system along with expert and practical guidance on its implementation and administration.
It will provide lawyers, surveyors, and anyone likely to advise on Commonhold with all they need to know, in a handy reference source. Written by a distinguished author team from Falcon Chambers, one of the top ranking sets in this area of law.
The authors provide both a detailed knowledge of this field of law, and an expertise in solving the forensic problems encountered when practising within it. The term 'commonhold' describes a new form of land owning within registered freehold land. The commonhold scheme is an alternative to leasehold ownership and ensures that the occupants of a development are entirely in control, with no landlord or other third party able to exercise influence.
The book benefits from the following features:-
A unique and substantial cases digest section, which demonstrates the authors' wide ranging comparative research into authorities on similar systems in use in commonwealth and other jurisdictions.;
A comprehensive bank of forms for use in every conceivable type of situation, including the setting up of a commonhold association, the making of a commonhold community statement, the application for registration, and precedents for all proceedings.;
A Frequently Asked Questions chapter setting out, and resolving, issues which are likely to occur in practice and which have been debated in court.;
A Best Practice Guide, which will set out the do's and dont's of running a commonhold.;
All the relevant sections from the Commonhold and Leasehold Reform Act, fully annotated along with other useful legislative materials.