Witness Testimony: Psychological, Investigative and Evidential Perspectives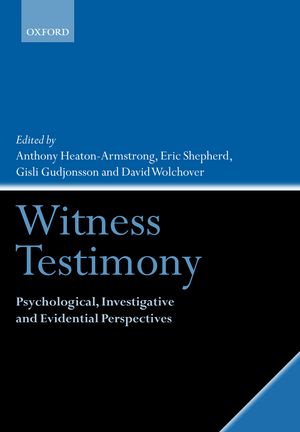 ISBN13: 9780199278091
ISBN: 0199278091
Published: October 2006
Publisher: Oxford University Press
Country of Publication: UK
Format: Paperback
Price: £99.00

Testimonial evidence remains the greatest source of information available to those who try cases in court.Witness Testimony: Psychological, Investigative, and Evidential Perspectives provides a comprehensive and easily accessible guide to the decision-making and actions of the complete spectrum of practitioner involvement in the criminal justice process, right from initial investigation through to court-room proceedings.
It builds on the content and structure of its ground-breaking predecessor Analysing Witness Testimony: A Guide for Legal Practitioners and Other Professionals (Blackstone Press, March 1999), and consists of 25 chapters written by an expert author team of practitioner and academic lawyers, forensic psychiatrists, and psychologists. The team is led by criminal evidence specialist barristers Anthony Heaton-Armstrong and David Wolchover, chartered forensic psychologist Dr Eric Shepherd, and Professor of Forensic Psychology, Gisli Gudjonnson.
The book is logically divided into three sections, looking in turn at each of the three inter-related perspectives upon a witness' account; psychological, investigative, and evidential. Section One explains and examines psychological issues, including; witness memory; the effect of learning disabilities; false allegations of sexual assault; and the effect of physical factors such as head injuries and drugs.
Section Two covers the crucial investigative issues and concerns in respect of false allegations; the impact of investigative and questioning style upon children and vulnerable persons; memory performace of witnesses; and linguistic interpretations. Section Three explores evidential issues such as; visual identification procedures; the status of witness demeanour; the reliability of oral evidence; the relevance of information technology to presentation of evidence; disclosure; the use of expert evidence; and judicial training.
The book will therefore be indispensable to all those involved in the resolution of contentious or disputed evidence, including; members of the judiciary and legal practitioners; crime investigators; and forensic psychologists and psychiatrists.
Provides comprehensive coverage of the complex and controversial topic of witness testimony across the complete spectrum of practitioner involvement in the criminal justice process
Written by a large author team comprised of many of the leading names in criminal evidence law and forensic psychology including; Lord Bingham of Cornhill; Dr Eric Shepherd; and Professor Elizabeth Loftus
Logically divided into three parts, looking in turn at each of the three inter-related perspectives upon a witness' account; psychological, investigative, and evidential
Written in a clear and accessible style
Builds on the content and structure of its ground-breaking predecessor Analysing Witness Testimony: A Guide for Legal Practitioners and Other Professionals (Blackstone Press, March 1999)