Legal Aspects of EU Energy Regulation: Implementing the New Directives on Electricity and Gas Across Europe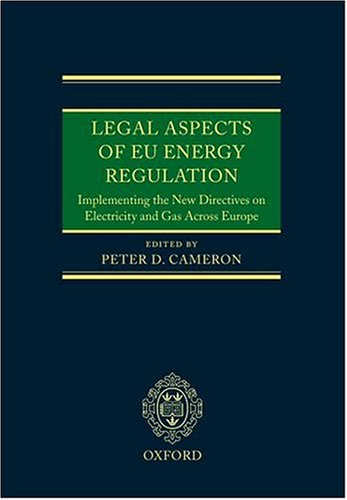 ISBN13: 9780199279630
ISBN: 0199279632
Published: February 2005
Publisher: Oxford University Press
Country of Publication: UK
Format: Hardback
Price: Out of print

The EU has adopted sweeping new legislation that introduced new rules and repealed earlier legislation governing the EU electricity and gas sectors. This requires a review and rethinking of existing law and practice in all of the Member States and the ten new Member countries. It builds on a dramatic increase in regulation in recent years, arising from the introduction of competition in a highly sensitive and strategic sector of the EU economy, as well as a shift to regulation by;national agencies in all 25 states, and an emerging role for the European Commission as a federal-style regulator.
The new legislation will, among other things, modify the competences of the European and national regulatory authorities, creating new potential for tensions and problems in implementation and observance by the wide range of players now involved, including governments, regulators, and industry. It will also add to the potential for conflict between energy and non-energy regulatory authorities, especially with respect to the implementation of competition law and environmental law.
Taking the latest developments as a starting point, the book focuses on those areas of national regulatory practice that raise important issues of a wider European significance, and which may provide lessons for improved regulatory co-operation in future. The book draws on the experience of prominent energy lawyers to provide an analysis of their own national experiences. The authors describe and comment on the key regulatory issues of third-party access, interconnector access, cross-border;trade, the harmonisation of tariff methodology, congestion management, security of supply and public service obligations, the liberalisation v regulation debate, and the interface between the EU and national authorities.