Financial Advice and Financial Products: Law and Liability Looseleaf 2nd ed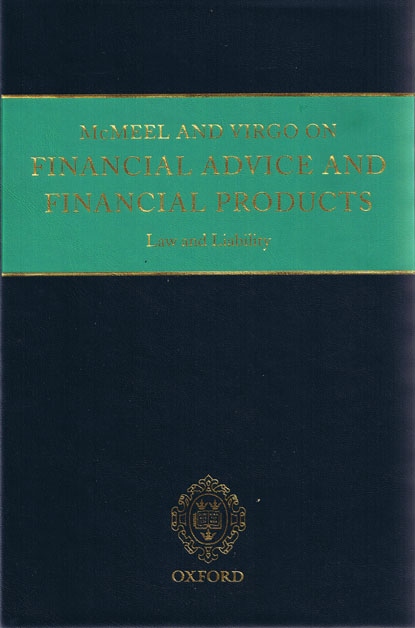 ISBN13: 9780199299065
Latest Release: December 21, 2012
Publisher: Oxford University Press Subscriptions
Country of Publication: UK
Format: Looseleaf
Price: Out of print

Subscription Type: Annual Subscription
Domestic Renewal Price: £195.00
Overseas Renewal Price: £195.00
Oxford University Press are not taking any further orders for this, as of September 2013. There are potential plans for a new book edition in late 2014. All updating services have been suspended with further details to be announced.
The new edition of Financial Advice and Financial Products now comes as a loose-leaf service. This comprehensive guide covers the legal and regulatory environment in which claims arising in the financial services context are brought and defended. Since 2001 legislative activity in the field of financial regulation has grown considerably and the rate of development in regulation and case law shows no sign of slowing.
This exciting new loose-leaf text considers the applicable regime including the regulatory framework and statutory claims under the Financial Services and Markets Act 2000, together with traditional 'professional negligence' claims based on contract and tort against financial advisers, brokers, other intermediaries and product providers. There are now two new chapters dedicated to the FSA's extension in regulatory powers to include the conduct of mortgage business (MCOB) and of general insurance business (ICOB) written by experts from Burges-Salmon Solicitors.
In addition, the authors look at the FSA's increasing focus on financial promotion, together with the new Financial Promotion Order 2005 and updated FSA guidance. The text incorporates recent case law (such as Beary v Pall Mall Investments, Seymour v Caroline Ockwell & Co) and the impact of more recent financial scandals, including the continuing fall-out of Equitable Life's collapse, endowment mortgage complaints and 'precipice bonds' or SCARPS. Development in the case law on limitation and causation, and the approach of the Financial Ombudsman Service (FOS) to cases within its jurisdiction are also considered.
Now in loose-leaf format
New chapters on conduct of business rules on mortgages (MCOB) and insurance (ICOB)
Changes to financial promotion regime
Two regular updates per year, this loose-leaf is an invaluable source of reference to all those in the field of financial services.
Updates will operate on an annual subscription basis, with the first years updating included in the purchase price.
Accompanied by (approximately) two updates per year, this looseleaf is an invaluable source of reference to all those in the field of financial services.